Check-out the press release of the PARAMETA
PARAMETA and CarS TOgether to Build Korea's First Mobility Token Securities Platform
PARAMETA and CarS TOgether to Build Korea's First Mobility Token Securities Platform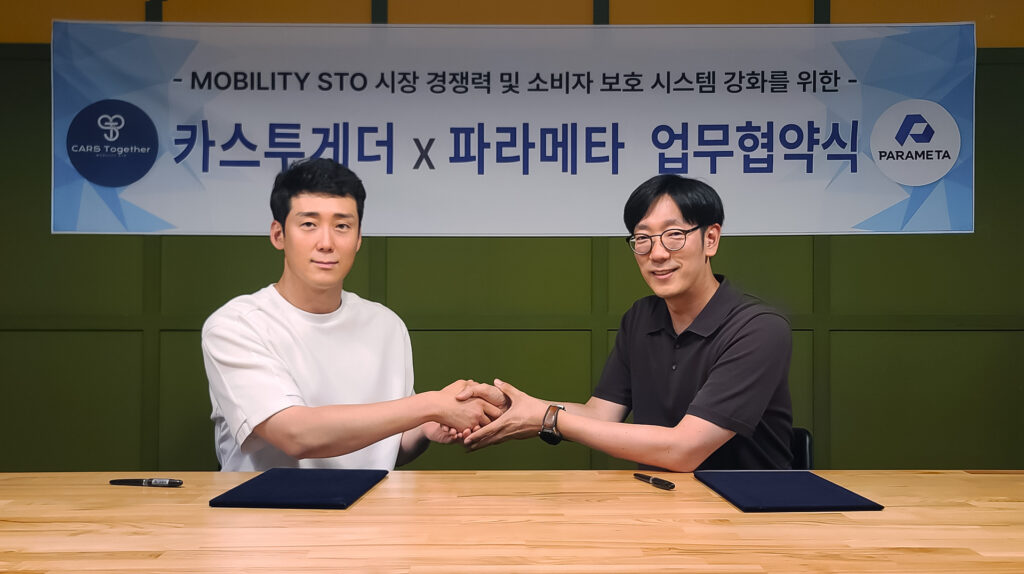 [PARAMETA and CarS TOgether at the MOU Signing Ceremony to Apply for a Financial Regulatory Sandbox and Partner on a Mobility Token Securities Platform]
August 1, 2023
– 'Web3 Enabler'
PARAMETA Corp.
(formerly ICONLOOP, CEO Jonghyup Kim) announced that it has signed an MOU with Mobility token securities platform operator CarS TOgether (CEO Jaejoon Ha) to collaborate on building Korea's first 'Mobility Token Securities Platform'.
Based on this MOU, PARAMETA and CarS TOgether will jointly apply for a financial regulatory sandbox to build a token securities platform with automobiles as the underlying asset, such as long-term rental and used car sales, and will jointly conduct all aspects of token securities issuance (STO) and distribution after the designation of innovative financial services.
In this cooperation, PARAMETA, as a blockchain technology partner of CarS TOgether, will provide the overall technology required to build a token securities platform based on its service, Parameta S (STO as a Service), and will also provide technical support and cooperation for stable platform operation in the future.
Based on its expertise and know-how in the mobility market and related businesses, CarS TOgether plans to create numerous opportunities for investors through the first mobility platform in Korea that applies token securities technology to the highly profitable automotive industry. Through this 'Mobility Token Securities Platform' in the form of a piecemeal investment that allows individual investors to make small investments in individual cars, CarS TOgether priority goal is to distribute profits generated from long-term rental, sale, and export of vehicles to investors.
Following the release of the Financial Services Commission's 'STO Guidelines (Regulatory System for Issuing and Distributing Token Securities)' in February, the outlines of the relevant revised legislation are beginning to emerge, indicating the full-scale activation of a fragmented investment platform using token securities, and the 'Mobility Token Security Platform' being prepared by PARAMETA and CarS TOgether is already attracting a lot of attention from the industry as it is the first fragmented investment platform in Korea with cars as the underlying asset. Through this transparent and stable platform, PARAMETA and CarS TOgether expect to naturally resolve the information asymmetry in the automobile market, which is considered a representative 'lemon market', while providing new investment opportunities for investors.
"We are pleased to be able to pioneer a new market with CarS TOgether, which has exceptional expertise and insight into the mobility market and business," said Jonghyup Kim, CEO of PARAMETA. "PARAMETA will continue to apply its blockchain and web3 technologies to build a token securities ecosystem where individuals can receive sufficient information and various investment opportunities."
"We plan to cooperate with PARAMETA, which has high technical capabilities in the blockchain and Web3 fields, in various technical aspects to pass the financial regulatory sandbox," said Jaejoon Ha, CEO of CarS TOgether. " We look forward to the full-scale growth of the mobility business based STO platform."