Check-out the press release of the PARAMETA
PARAMETA and plutospartners to Build Korea's First Real Estate NPL Token Securities Platform
PARAMETA and plutospartners to Build Korea's First Real Estate NPL Token Securities Platform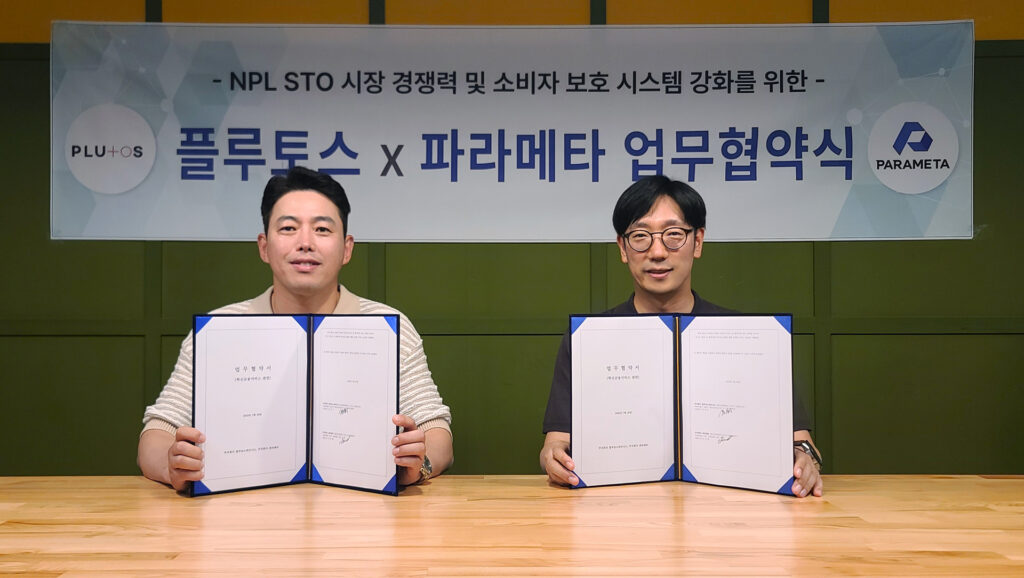 [PARAMETA and plutospartners at the MOU Signing Ceremony to Apply for a Financial Regulatory Sandbox and Partner on a Real Estate NPL Token Securities Platform]
July 25, 2023
– 'Web3 Enabler'
PARAMETA Corp.
(formerly ICONLOOP, CEO JH Kim) announced that it has signed an MOU with NPL token securities platform operator plutospartners (CEO Sang-ki Jung) to collaborate on building Korea's first 'Real Estate NPL Token Securities Platform'.
Based on this MOU, PARAMETA and plutospartners will jointly apply for a financial regulatory sandbox to build a token securities platform with real estate NPL* as the underlying asset and will jointly carry out all aspects of token securities issuance (STO) and distribution after the designation of innovative financial services.
*NPL (Non-Performing Loan): Refers to a non-performing loan that has become unlikely or difficult for a financial institution to recover the money it has lent, i.e., a 'non-functioning' bad debt goddess. Typically, when a loan is overdue for more than three months, financial institutions downgrade it to a "fixed" rating or lower and sell it, with institutions and securitization firms viewing these NPLs as safe and profitable investments and realizing a return on their purchase. The size of the NPL market is growing due to the recent increase in corporate and household debt.
In this cooperation, PARAMETA, as a blockchain technology partner of plutospartners, will provide the overall technology required to build a token securities platform based on its service, Parameta S (STO as a Service), and will also provide technical support and cooperation for stable platform operation in the future.
Based on its expertise and know-how in real estate NPL, plutospartners plans to actively explore various opportunities that can be created by the fragmented investment platform that applies token securities technology to the field of real estate NPL investment, which has been difficult for individuals to access, together with PARAMETA.
As token issuers will become more like financial companies, it is expected that they will need to upgrade within the framework of the currently proven fund system, and PARAMETA's technical capabilities proven in actual fund management work are considered essential for token issuers. By adding PARAMETA 's high technical capabilities, which can digitize and automate the manual work of advanced fund front and back offices, custodian banks, PBS (Prime Brokerage Service), and office trustees by implementing an API system, and the know-how of plutospartners' CEO Sang-ki Jung, an asset management company operation expert, the two companies will develop and provide a stable platform service based on blockchain fintech technology that connects financial consumer protection and the financial system.
Following the release of the Financial Services Commission's 'STO Guidelines (Regulatory System for Issuing and Distributing Token Securities)' in February, the full-scale revitalization of piecemeal investment platforms using token securities is expected as the outlines of related revised legislation begin to emerge. While there are various STO products and platforms centered on real estate, NPL investment, which will be the medium of the platform that the two companies are preparing, has been classified as an area that is particularly difficult for individual investors to access due to high entry barriers.
Therefore, PARAMETA and plutospartners are preparing this platform to open the opportunity to invest in real estate NPL, which have many advantages such as safety, high profit potential, and a thick layer of 'margin of safety' for profits, to general investors. Through the first real estate NPL token securities platform in Korea, the two companies expect to share profits with platform participants, promote mutual growth, and popularize investment in the field.
"With the announcement of the STO Guidelines and the recent release of the draft legislation, the possibility of STOs being incorporated into the institutional system is gradually becoming more visible," said JH Kim, CEO of PARAMETA. "PARAMETA will take the lead in constructing a token securities ecosystem that can provide individuals with various investment opportunities based on the blockchain and web3 technologies and various operational experiences we have accumulated."
"The use of token securities has revolutionized the asymmetry of the NPL market, which has been difficult for individuals to participate in," emphasized Sang-ki Jung, CEO of plutospartners. "It will be an investment sector that can satisfy both the public and private sectors, providing NPL investment opportunities for individuals and a market-friendly and natural solution for administrative agencies at a time when non-performing loans are expected to increase due to rising household and corporate debt."