Check-out the press release of the PARAMETA
PARAMETA Participates as a Collaborative Company in Blockchain and Fintech Competition
 PARAMETA Participates as a Collaborative Company in Blockchain and Fintech Competition <BEST Challenge>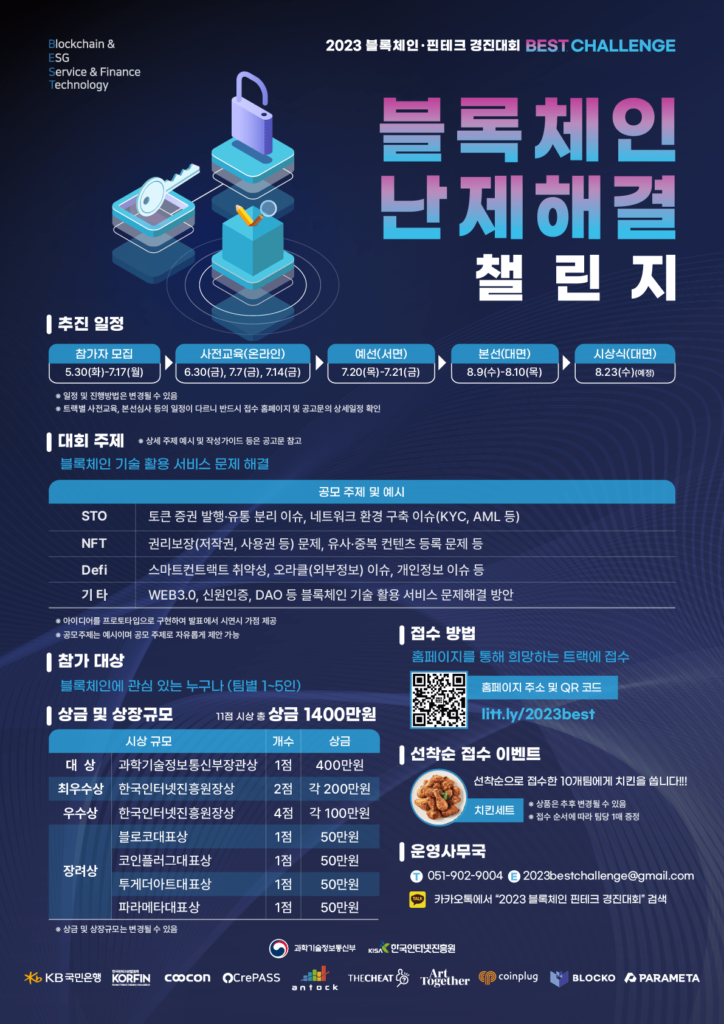 ['Solving Blockchain Challenge' Poster]
Seoul, June 8, 2023
– 'Web3 Enabler'
PARAMETA Corp.
(formerly ICONLOOP, CEO JH Kim) has announced that it will participate in the <BEST* Challenge>, a blockchain and fintech competition conducted by the Ministry of Science and ICT (MSIT) and the Korea Internet & Security Agency (KISA), as a collaborative company.
* BEST: Blockchain & ESG Service & Finance Technology
As a collaborative company in this contest, PARAMETA will be responsible for pre-training, mentoring, and judging participants in the 'Solving Blockchain Challenge' category, which is held to find solutions to technical challenges that arise in the process of developing blockchain services.
The competition, which is held to discover innovative blockchain and fintech technologies, consists of three detailed tracks: ▲ (Track 1) 'Alternative Data-based Fintech Ideathon' to present fintech service ideas using alternative data such as non-financial data ▲ (Track 2) 'Solving Blockchain Challenge' to present solutions to problems arising in blockchain technology application services such as STO and NFT ▲ (Track 3) 'Blockchain-Fintech-based ESG Service Contest' to present ESG applications using blockchain and fintech technology.
The competition is open to individuals or small and medium-sized enterprises (teams of five or less) interested in the blockchain and fintech fields and will be accepted online* until July 17. During the submission and competition period, preliminary training and mentoring for participants by experts in collaborative enterprises including PARAMETA will be provided, and the final 28 teams selected through the presentation evaluation will be awarded certificates (28 points in total, including the Minister of Science and ICT Award, KISA President Award, and Collaborative Company Representative Award) and cash prizes worth KRW 45.5 million.
* Submissions: Access Linktree (litt.ly/2023best) → Receive submissions from the ONOFFMIX.COM linked to each track
As a first-generation blockchain technology company and Web3 Enabler, PARAMETA, one of the <BEST Challenge> collaborative companies, has been leading innovation by continuously developing blockchain and Web3 technologies and applying them to various industries. Based on its blockchain full-stack technology and know-how of many public and enterprise blockchain successes, PARAMETA provides 'Parameta Service', which enables businesses to select and apply the core elements of Web3 - Wallet, NFT, STO, and Token Management - to their business without building their own infrastructure, supporting easy and fast Web3 adoption and transition.
"As a blockchain technology company, we decided to participate in this contest as a collaborative company to give a little support," said JH Kim, CEO of PARAMETA, adding, "We hope that excellent blockchain ideas will be discovered through this contest and lead to commercialization."