Check-out the press release of the PARAMETA
PARAMETA Launches 'Web3 Game Transforming' Program to Support Game Companies' Transition to Web3
PARAMETA Launches 'Web3 Game Transforming' Program to Support Game Companies' Transition to Web3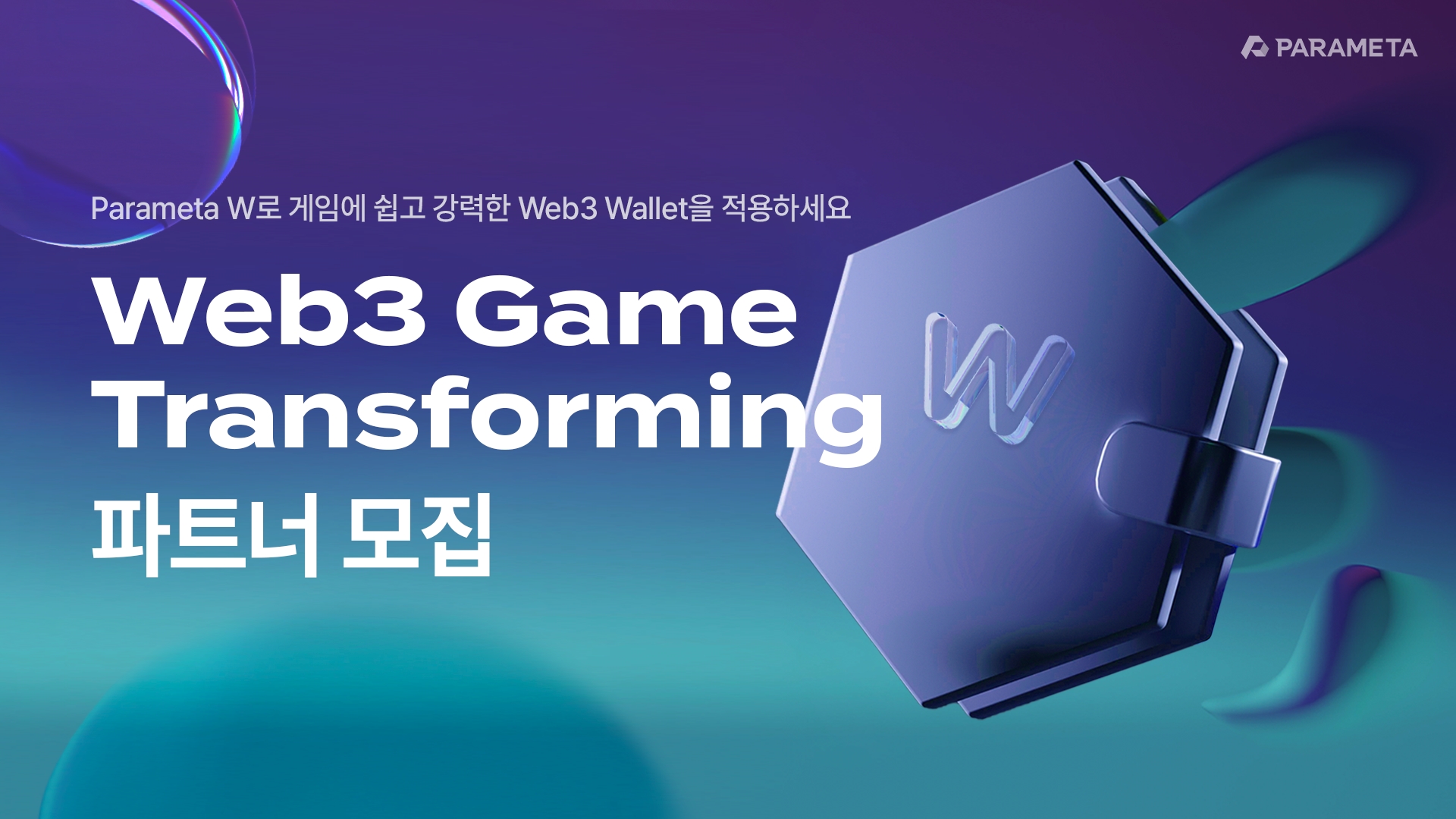 Seoul, April 4, 2023
– 'Web3 Enabler'
PARAMETA Corp.
(formerly ICONLOOP, CEO JH Kim) has announced the launch of 'Web3 Game Transforming', a program aimed at supporting game companies to transition to the Web3 and is recruiting partners for the program.
'Web3 Game Transforming' is a business transformation support program that offers professional technology consulting, necessary Web3 development technology, and overall support for game companies which are preparing for web3 conversion or expansion into the Web3 area. PARAMETA has planned this program based on the addition of custody services utilizing a wallet based on a VASP license business in 'Parameta W (Wallet as a Service)' and plans to support each partner with optimal Web3 transition based on its unique Web3 and blockchain technology capabilities and accumulated know-how.
PARAMETA will select 10 game companies as partners for 'Web3 Game Transforming'. The program includes benefits such as specialized technology consulting support for establishing a Web3 conversion strategy, technology selection, development method, technology support necessary for Web3 conversion based on 'Parameta W', development support for DID (Decentralized Identifier) and PDS (Personal Data Storage), custody service support utilizing VASP (currently under preparation), security-related issue resolution support that may arise during Web3 transition, developer education and training support for Web3 technology and related tools.
This program is based on PARAMETA's trusted custody-based key management service, 'Parameta W'. 'Parameta W' is PARAMETA's representative service that enables the application of a Web3 wallet without the need for independent infrastructure construction through API linkage, enabling safe management of personal identity and data through DID and PDS technologies, and provides a simple and powerful Web3 wallet based on convenient UX.
In particular, PARAMETA plans to provide a secure custody service that has been verified for security and usability, such as KYC, AML, and FDS, by utilizing the wallets of exchanges that are safely conducting business with VASP licenses. For this purpose, discussions are currently underway for technical collaboration with exchanges such as Coinone.
In Web3 games that focus on user-centered data management, the most critical factor is the management of safe private keys. In the non-custody method, there is a high possibility of asset loss in case of private key loss, as it is not recoverable. In this regard, Parameta W's custody service utilizing VASP can provide an innovative and secure way to store and manage private keys.
In addition, when playing Web3 games, users typically must install a Web3 wallet themselves or the game company must implement a wallet function separately within the game. This is an area that requires high expertise and has been difficult for game companies to develop on their own. 'Parameta W' can greatly improve the usability for both users and developers through UX convenience that replicates the development environment of existing Web2 games.
PARAMETA is recruiting 'Web3 Game Transforming' partners through its website (
https://www.parametacorp.com/web3gametransforming/
) until April 24th, and plans to select 10 game companies as partners for the program to support their transition to Web3.
JH Kim, CEO of PARAMETA, emphasized that "The transition to Web3 is no longer a choice but a necessity, especially for game companies, as new business creation in the Web3 era accelerates." He added, "PARAMETA will actively support the successful transition of game company partners to Web3 based on the major advantage of utilizing VASP for custody services through 'Parameta W'."
Meanwhile, 'Parameta W' is also planned to be applied to the Web3 Data Protocol 'Perme,' which is being built through collaboration with CIZION, which operates the largest social comment platform in Asia, 'LiveRe.'